Aero Marine Services
A Little Bit About Us

---
I am an Aviation Technician and was an Inspector by trade and I have extensive training and teaching experience in the Aviation and Marine Service Industries. I also love to fly! I am an F.A.A. Licensed Pilot with 39+ years of flying experience and over 4000 incident free flying hours. Along with Single Engine flying experience, I am also Multi-Engine rated and have an Instrument rating. My flight experience covers most single and light twin engine aircraft through the Beechcraft King Air and Piper Cheyenne Turboprop Series.
Along with flying, our family loves Boating too! We travel all over southern and central Lake Michigan in our 1987 Carver 4207AC that we keep moored at Hammond Marina in Hammond, Indiana.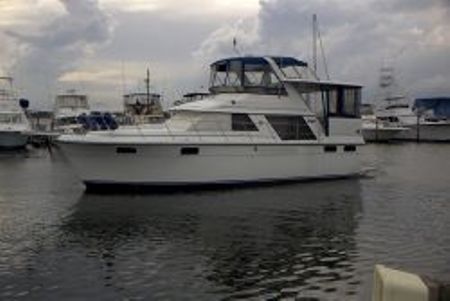 The name of our boat is J.A.C.S. R Wild and you'll always see our two Golden Retrievers - Chloe & Addison- riding along enjoying the fresh air with us. The acronym for the name on our boat is made from the first letter of each of our family member's names; (J)ason; (A)rchie; (C)hris; and (S)andy. This has been our family logo since the kids were little and came from Sandy signing our Christmas Cards each year with this logo.
Aero Marine Services, Inc. is a Certified NMEA installer and provides Factory Sales & Service for Marine Electronics, Marine Parts and Accessory Systems for the Recreational and Commercial Boater. We provide Factory Service and Technical Help for all major Marine Electronics Manufacturers and employ only accepted Aviation and Boating Industry Installation & Wiring Practices in our custom installations that make the 'One-of-a-Kind' electronics package for your vessel a reality! Using these practices enables us to warranty our work and provide our customers with an electronics package that will be worry free for years. We also provide Broker Service for the potential Boat Buyer or Seller, which allows us to either find your next vessel or sell your present one and arrange everything from the survey to the financing to make the experience of Boat Ownership as pleasant as possible.
Aero Marine Services, Inc. has a VERY extensive territory. Our mobile technicians , Myself & Jason, will travel to your vessel from our centrally located office and shop facility.
We are an Approved Vendor for the City of Chicago Harbors, Hammond Marina, and several other facilities that we have a working business relationship with.

Be sure to visit our other Pages for specific areas of information.
Thanks for visiting us and remember
A SMILE GOES A LONG WAY!!
Updated 01/05/2017